I pulled out my good ol MacBook when I got home from work today -- truth is, ever since I got my iPhone a few years ago and then graduated college last year this thing doesn't get used much... well aside from online shopping ;)
Needless to say I'm a habitual dragger. IE I find photos of outfits, shoes, fabric, quilts, food, whatever that I like and I drag them to my desktop. My desktop was literally FULL. Like, I couldn't even see my wallpaper so I did a little spring cleaning. Now she's a little cleaner and looks like this...
(I took this photo while in Punta Cana, Dominican Republic a few years ago on Spring Break. That's a real shipwrecked ship... pretty gorgeous huh?!)
Wait, what was I getting at again? Oh yea, I saw over on Katie's blog a fun feature called Thoughtless Thursday and decided to join in with some photos I found on my desktop in a folder cleverly titled "SORT THROUGH" (I have the best of intentions, honest)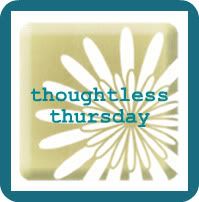 So here we go... I helped my mom put together a black & white photo wall for the living room and these are some of the pictures we used...
The family in Navarre Beach, FL a few summers back, we rented a big pink house on the beach and had a blast! (My dad, my momma, my aunt Patty, me, my cousin Alicia and my Uncle Mike in the back, my good ol Grandpa in the front!)
My sister-in-love, Courtney & I on my 21st birthday
My momma & I at my brother, Brandin & Courtney's wedding
My mom & dad at a delicious restaurant we stumbled upon while in Puerto Vallarta, Mexico
My uncle Leo & I tailgating before a Colts game this past year
Myself, my brother Brandin & Courtney last summer at a street party before the Indy 500
My daddy & I at B&Court's wedding
Mom & Gramps before another Colts' game
My brother & sister-in-love at a Derby party last year
Brandin & Justin after the Colts beat the Patriots to go to the Superbowl!
Well, that's all I've got... I hope I didn't bore ya'll, I love black & white photos though, and when I came across these I wanted to share!