I honestly look forward to this every week! I love reading everyones answers! I am putting mine up tonight because we are so so busy at work and I don't know if I'll get time to tomorrow!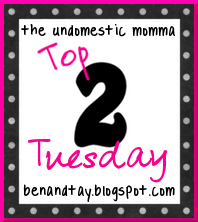 1. I turn my tv on, put it on HGTV, set the sleep timer to 15minutes, turn the volume off, and then roll over and go to sleep. I've done this every night for as long as I can remember. If there's sound, I can't fall asleep, and if there's other lights on besides a tv it keeps me up.... I have a hard time falling asleep when I stay at Chris' condo because his tv doesn't have a sleep timer.
2. I have a very entrepreneurial (possibly a real word?!) mindset. I often ruin hobbies for myself because I try to figure out how to make money off of it. When I worked at the scrapbook store I was always trying to figure out classes I could teach or if I could make scrapbooks for others.... whenever I bake I wonder "Hmm I would love to own a bakery one day".... when I sew I am always thinking about "Maybe I will sell this next quilt I make".
I'm off to check out those who have already played along and then hittin the sheets! I'll be peeking in on the rest of you tomorrow so come play along!