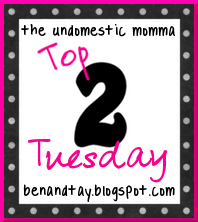 It's time for another Top 2 Tuesday with Taylor over at
The Undomestic Momma
. This weeks topic is baby names, because miss Tay just announced she is expecting another! (Yay!)
Ever since I was a little girl, I've been dreaming up names for future babes (at that time, my Barbie's got all of my favorite names!)
Girls
1.
Addeline Rae - since I'll be married off, I'd love to give my lil girl my last name (Ray) as her middle name! Plus I love the thought of yellin "ADDY RAE IT'S TIME TO COME INSIDE!" off my front porch haha! It's so adorable and country-soundin!
2.
Lucille Ann - I love older names, my mom came up with this one while we were waiting for Baby Olivia to make her debut and it's stuck! Lucille was my great grandma's middle name, and Ann was my grandma's middle name (I almost was named Carla Ann - my grandpa's middle name is Carl, but my parents didn't think I looked like a Carla... I agree!) Plus, in my mind, a little pig-tailed Lucy is just too cute for words
I also like Presley or Anniston as girls names, but I don't want people to think I named my kid after Elvis... or Jennifer!! Heather over at
Dooce
got me obsessed with Marlo too but Chrischris hates that!
Boys
1.
Easton Nickolas - I think Easton is so cute, and Nickolas is a mandatory middle name coming from Chrischris' side of the family!
2.
Huckleberry Finnigan - I'm just kidding here. Totally kidding, I just couldn't think of any of the other boys names I've liked =)
Chris is hooked on Aiden, but I don't like how popular it is. He also likes Collin too, which is sort of growin on me!
Hurry over to Taylor's blog and play along... you know I will be makin my McLinky rounds to see what everyone else picked!