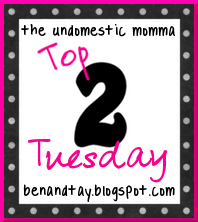 It's that time again!Another week, another Top 2 with Tay over at
The Undomestic Mama
This one was EASY! I decided to go with inanimate objects for this, there are a handful of people and/or basic necessities I could have named! But I barely had to think...
1) Google. Honestly I couldn't go a day without google. Between gmail and my obsession with knowing the answers to everything, I am on google atleast 5-10x a day! When I bought my iPhone a few years ago this only added fuel to the fire!
2) Burt's Bees chapstick. Is there a need to explain? I've honestly gone through like 6 tubes of this stuff!