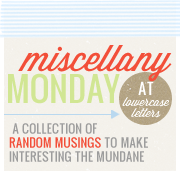 I saw sunshine for 3 days straight this weekend! Granted, it was far from WARM and sunny... but it was sunny, and at this point I'll take whatever little glimpse of spring Mama Nature decides to dish out.
1)
Chris and I had a nice little dinner date Friday night that we ended with some ice skating... me, being the professional, never fell. Chris, trying to show off, fell once. The
dinner
- meh. The date - smiles.
2)
I had vowed to not let Russell on the couch. He's such a cuddler though, that that resolution lasted nearly 6 hours.
2a)
Yes he does go by Russell now. The artist formerly known as Oro. He is actually listening when you say his name now instead of ignoring you and continuing to run rampant through out the house. Although when he's feeling frisky he responds only to Russello d'Oro (and you MUST roll the R)
2b)
Russell got a haircut last week. Apparently the lady felt that he was a poodle/SCHNAUZER mix because he has a straight schnauzer haircut. I'm not really a fan. (Side note: we are pretty sure he is, however, indeed a schnauzer mix. When I vacuum and he goes NUTS barking... you can very clearly hear the schnauzy influence of his bark)
3)
I popped into Goodwill on Saturday while I was running some errands. This is what I saw.
You already know what I'm going to say next.
I walked out with a dresser. Not literally walked out... fitting a dresser into
my car
- now THAT's a funny thought.
It has taken up residence in my craft room (that was empty up until this weekend). $24.99... how could I say no?! Solid wood too - that sucker is heavy. Missing a few pieces of hardware, but I've got ideas.
3a)
Added bonus: mom and I discovered, while unloading it, that one drawer was still full of clothes (slightly odd, slightly humorous). And then, stuck back behind another drawer, I found a really old picture of two little boys on a swing that is HILARIOUS. I think I will frame it.
4)
The weathermen are calling for a "CATASTROPHIC ICE STORM" tomorrow. Won't that mean we will all die? Catastrophic... huh... nice knowing ya'll.
I'm keeping my fingers crossed that perhaps we'll get a strong wind and all that snow will come a little further south... I'd much rather have 12" of snow than 4" of ice. I do like the hot pink coloring though. It's like a little glimmer of fun before the CATASTROPHIC event.
I'm linking up to Miscellany Monday with Carissa!