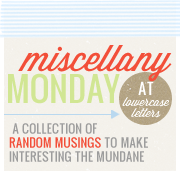 I feel like I have so much to share today! Thank goodness
Carissa
hosts Miscellany Mondays!
1. Bustin moves
My brother & sis-in-law bought one with giftcards from Christmas. i am SOOOO not a dancer... I refuse to dance, but I have become obsessed with Dance Central game, we have played it the past two weekends! I am addicted. It's so fun, and I have been getting like 4 stars on dances... maybe I CAN dance?!
(two of my cousins playing it at Olivia's bday party)
Chris & I went to a 'date night pottery class' Saturday night. It was so much fun! I took a lot of ceramics classes in high school, and being on the wheel again made me fall in love all over. Chris had a lot of fun too, I was hesitant as to whether he'd like it or not (it was a surprise date night I had planned for us). We talked to the guy who led the class about taking more!
3. Gettin crafty
I was finally able to make it to another
Indy Modern Quilt Guild
meeting on Saturday afternoon.
I had a blast! I often complain that I have no good friends who are crafty and like sewing like me, so it's fun being around a group of ladies close in age that enjoy that kind of stuff just like me!
We made name tags! I am kinda in love with mine... is that weird? ha It felt so good to be around people who just want to make pretty things!
4. Payin the big man

I knocked out my taxes this weekend. I do my own, and was so scared that they would be super difficult now that I own a home. Nope, not the case! And I'm getting a nice little chunk o' change back. Yippee!
5. Relivin the memories
Sometimes when I'm bored
(or on the toilet... what don't act like you don't facebook from the throne)
I look through old vacation albums on facebook. There are so many hilarious photos and happy memories!
This one in particular had me cracking up. It was our first trip to Jamaica and my friend Casey and I participated in some sort of obstacle course/game? I ended up winning it for our team thanks to my immaculate hoola-hooping skills!
(Sigh... i want to be that tan again! And have sand between my toes!)
6. Donating my time
I am attending an orientation tonight to become a volunteer for the
Indianapolis Zoo
. I'm really excited about it! I looove the zoo! I am not sure what exactly I would get to do, but I draw the line at picking up elephant poop.
7. Being the dirty kid

Just kidding! But really, my mom got me this scarf for Valentine's Day (yes we get Vday gifts... so what!)

I love it and want to wear it everyday!


8. Winning Things
Don't forget to enter my giveaway! Only a few days left =)




Meh - that's all I've got for now. Guess I should get some work done, huh!?