It's my favorite blog day of the week!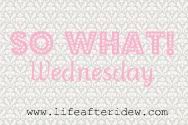 So What Wednesday
So what
if I spent atleast 4 hours Monday night making 'friendship' bracelets. I've finally figured out how to get them to stripe... next up I'm attempting a chevron pattern!
So what
if I talked the guy I'm dating into wearing one. I think he secretly loves it.
So what
if I couldn't figure out what to get my dad for his birthday last week, so I made him German Chocolate Cake Balls. I think it was his favorite gift!
So what
if I my proudest accomplishment of the week has been successfully making biscuits & gravy for the first time ever in my house!
So what
if I am in love with my 2 new skillets. I HAD to have them!
(One says 'I kiss better than I cook' and the other says 'born to shop, forced to cook')
So what
if I am having a big housewarming/cookout bash at my house on Saturday and last night I decided I wanted to redo my bathroom floor. Before Saturday. I work well under pressure.
So what
if I'm always impressed by people who respond that they are doing WELL and then I secretly kick myself for being the hilljack that said I was GOOD.
So what
if
I do a little dance in my chair every time I eat good food. Yep… guaco, pizza, fried pickles, fresh watermelon… they all get the Yum in my Tum booty shake!
So what
if I bought 2 hula hoops at Walmart Saturday evening because I was ticked off that I lost a hoolahooping contest at a bar Friday night & wanted to prove that I was a champion! (which... by the way I am!)
So what
if after getting home from that extravaganza Friday night we attempted to install a ceiling fan in my bedroom. Make note: don't attempt power tools after 2am.
So what
if I that task had to be postponed until the next day. We've since installed 3 more. Need fans. Indiana summers are HOT. AC is expensive.
So what
if I have no reason to share this picture except that I found it Sunday and can't help but laugh at what an aaaadorable child I was. Passed out on the couch with a nutty bar in my hand
Still wanting more? Check out my SoWhat's from weeks past - I promise there's some good ones that'll keep you giggling!