It's my favorite blog day of the week!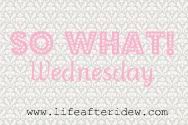 So What Wednesday
So what
if I have walked around saying "It's cause im young and im black and my hats real low" as an answer to everything for the past week. Darn you JayZ.
So what
if I haven't recapped Kenny concert or my housewarming bash because I am waiting on my friend to upload her pictures so I can snag them!
So what
if I am biased... but I'm pretty sure I have the cutest grandpa EVER.
So what
if my crowning achievement of last week was neon tie-dye cupcakes.
So what
if my recent Google searches include:
"What is an ice cream paint job"
"are 2012 Olympics winter or summer"
"welcome wagon"
"fix running toilet"
"all in favor say ay"
So what
if am obsessed with the app, HeyWire
, you can text international (or local too) for free! So much better to keep in touch with Jamaican friends when you don't have to pay like $0.50/text!
So what
if I had an impromptu cookout Sunday to try to banish some leftovers & beer that are still around from my housewarming bash Saturday night
So what
if the scent of deepfryer is still lingering in my house.... the fried pickles & banana peppers I made for us Sunday were well worth it
So what
if was hellbent on making a too-big tshirt wearable... and am quite proud of the outcome
So what
if I frequently

(as documented above)

rock jorts. Cutoff jorts. Without any qualms either.
So what
if I am way excited about the table my dad built for my kitchen, he just installed it this weekend too!
So what
if I have a mild obsession with adult caprisuns. They're so easy, and so good.
And lastly.... So what
if I am a big ol goofball! These shades came from a ThreeO Purple promo and I found them in a box I unpacked the other day and HAD to wear them!
Still wanting more? Check out my SoWhat's from weeks past - I promise there's some good ones that'll keep you giggling!