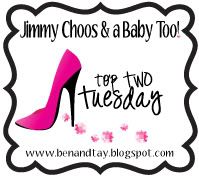 I'm back with another Top 2 Tuesday hosted by Taylor! This weeks' topic is movies. I didn't even have to THINK about this one!
My top two movies are classics! Classics that involve dancing!! (Ironically, I can't dance if my life depended on it! Maybe that's why I like these movies? Ha!)
Dirty Dancing
Hello, duh! Show me a girl who doesn't have this movie in their top 5?! and my number two....
A great American classic. Ahh love it! I want to leave work and go watch both of these now! Haha
Taylor posted two good ones too, I adore 'PS I Love You'! I could give a list of my top 20 favorite, but I won't bore you with that! I stuck to my "go to" top two! (To all who know me in real life, How To Lose A Guy In 10 Days is totally third, don't worry!!)