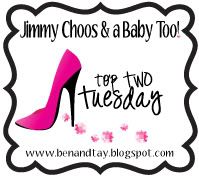 This is becoming one of my favorite weekly posts! I always enjoy learning a lil bit about the bloggers I follow, and I hope you guys have fun reading my answers and maybe even participating over on Taylor's blog,
Jimmy Choos & a Baby Too
.
My Top 2 Dream Jobs are:
1. A tie, either owning my own home goods/boutique type store. I'd have a mix of vintage and antique goods (that I get the fun of hunting down of course) and new items. Or owning a fabric store/crafting place!
2. Establish a crafting/indie business for myself and be able to work from home and be self-employed! I hope to have an etsy store open selling my goods at some point in 2010!
I would also love to be the visual coordinator for an Anthropologie store, ahh I'd die! (total Zoe-ism there!) or being a beach bum and braiding hair on some tropical Caribbean island always seems like a viable option! Be sure to visit Taylor's page and see what everyone else would love to spend their 9-5's doing!