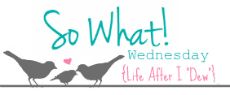 So what
if I woke up this morning feeling like hell.... but envisioned 8 hours of vacation time spent on a beach, and used that as my motivation to get my sick self out of bed and go to work. Is that not ridiculous. Priorites, people, priorities!
So what
if I've got atleast 7 times the legal limit of Vitamin C running through my veins right now. Ok, ok, "recommended daily allowance", whatever.
So what
if I wear my Uggs on the drive to work most mornings, then change when I get to our work parking lot. I cling to that last little bit of coziness as long as I can!
So what
if I wake up, make a mug of green tea to drink while I'm getting ready, make coffee to drink for the drive into work, and make a green monster for once I get to my desk. Needless to say I'm ready to pee my pants by 9am.
So what
if I spent the better part of my Saturday night on the phone catching up with a west coast friend I haven't seen since last summer. Apparently we had a lot to catch up on, considering we logged well over 3 hours of phone time.
So what
if I am purposely letting some bananas go brown so I can make banana bread, which I have been craving for weeks
So what
if I find it eerily weird that I am going to be in the Punta Cana the exact same dates that I was there 6 years ago.
(Oh yea, surprise! My first vacation of the year is booked already!)
So what
if I have to go throw away the 27 tissues I went through while writing this post. Gah this head cold may just be the death of me.