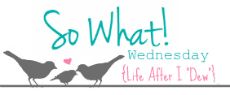 So what
if my last So What Wednesday post was like a month ago.
So what
if I am totally rocking out to Lionel Richie right now. I am digging his new album, with all of the collaborations!
So what
if I think the hottest thing a guy can wear is a white tshirt and jeans. And Pandora clearly knows my weak spot.
So what
if I rediscovered these bad boys in my trunk and want to wear them all the time now.
So what
if my coworkers and I have a serious problem. DQ is right down the road from the house of booze, and we make frequent trips.
So what
if I STILL am not able to wear my new MK watch because no place will resize it since I didn't buy it there. LAME.
So what
if I sometimes decide I want cereal too after I fix a glass of milk.
So what
if I spend many a night out back by my firepit with RussRuss The Ladies Man, now that the weather has warmed up.
So what
if my boots have a closet all to themselves. My house has a lot of little closets, it works out perfectly.
So what
if this makes me a spoiled brat. My mom drops off donuts for me when I am not home. LOVE IT!