It's my favorite blog day of the week!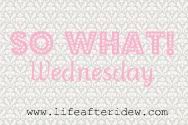 So What Wednesday
So what
if I put a dollop (would that be the proper terminology here?) of roasted red pepper hummus in tupperware & brought it to work, only to gag when I opened it at lunchtime because it looked just.like.cat.vomit.
So what
if I
am sad that the flowers
Michelle
sent to me last week are startin to wither. Boo! Why can't blooms last forever?!
So what
if I
have been spending more and more time in my craft room these days. My sewing machine and I have been bonding a lot!
So what
if after (finally) seeing Crazy, Stupid, Love I really want someone to do the Dirty Dancing lift with me. Annnd I wouldn't be opposed to Ryan Gosling being the man to do it.
So what
if I am really looking forward to spending the day with my aunt on Saturday (hi auntie! I know you're reading this!!) We're gonna go wreak havoc on all the small town antique stores out by her
So what
if I got excited when I saw someone had Pinned my "girlfriend cookies" on Pinterest
So what
if I have a habit of avoiding my backyard during daylight hours so I don't get sucked into an hour long conversation with the newspaper thief. In all fairness, she is really sweet, but she wears me out
So what
if I am a little upset that Mother Nature dangled Boot Weather right in front of my face, two days straight I rocked boots... and then she took it away and we're back to 80s now! HOW RUDE.

(Said in my best Stephanie Tanner voice)
Still wanting more? Check out my SoWhat's from weeks past -
I promise there's some good ones that'll keep you giggling!