It's my favorite blog day of the week!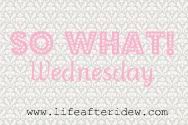 So What Wednesday
So what
if I am unnecessarily nervous to call the Prosecuter's office about getting a deferral for my ticket. I'm a good kid, I don't have to deal with the law much, they intimidate me.
So what
if I woke up this morning seriously concerned about where I'm going to put a Christmas tree up in my house. I literally got out of bed and went down & inspected my living room. Still no answer, but I have a few ideas. I must have been dreaming about the Grinch or something!?
So what
if I
am quite excited to go shopping for
Holly
's gift for the
Fall's Favorite Finds swap
So what
if I practically ended up cooking dinner for everyone at my mom's house on Monday (Monday night family dinners, duh!). She cooks every week, I was just tryin to help out!
So what
if I so badly want to do a before/after of all the rooms since the "1 year anniversary" of buying my house is coming up, but that's a whole lot of straightening up to do... and that is just a daunting task.
So what
if my mom and I were more worried about snapping photos of ourselves than actually WATCHING the game Sunday night. Hey, you can never have too many mama/daughter photos!
So what
if the search for the indestructible dog toy is still failing miserably. Atleast it's just toys he tears up, and not my shoes
So what
if, no matter how many squiggly red lines I get, I will never NEVER be ok with spelling it "at least" instead of "atleast"
So what
if my most recent trip to the grocery consisted of 6 cans of Campbells, 2 Lean Cuisine french bread pizzas (those are delish btdub) and a loaf of bread. Hello lunch for 2 weeks straight!
Still wanting more? Check out my SoWhat's from weeks past -
I promise there's some good ones that'll keep you giggling!