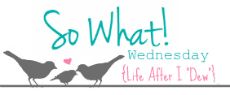 It's soooooo what WEDNESDAY time!
So what...
if I am dressed like a pirate today.
So what...
if this simple little act of kindness made my morning.
I sort of had a crap week at work last week, one of those where you feel like you just keep messing things up. So when this email popped up & I saw that one of my wine guys had emailed my boss singing my praises my heart got all warm & fuzzy.
So what...
if I want to jump for joy because niece has ONE MORE CHEMO treatment left. ONE MORE!!! Wow, what a journey since January. To be honest, it's flown by. And I'm so thankful for that. I tried to tell that tumor it didn't stand a chance! (PS look at all that attitude - sheesh)
So what...
if I'm about to go all sales pitchy on you and tell you that if you aren't signed up for
Ebates
. Go sign up now! I don't do a ton of shopping online, but I used it for a few purchases, and used it when we booked our airfare for our last trip to the Dominican, and I just got a check for $33 from them. For doing nothing but clicking the link through their site.
UHmazing.
So what...
if I ducked out on margarita night early last night so I could go to my parents and watch the finale of The Voice. I loved Jamar the most, and then Tony Lucca and then Jermaine. So at least one of my men won! Woo! And Biebs performed. What a little cutie
So what...
if I was taken back to my high school days when I went on a 2ish hour road trip with a fella I'm dating and his parents Sunday. This fella, whom is aptly nicknamed Little Tyke (yes, every guy I date immediately earns a nickname and is thereafter called by it all the time) races, and we went to watch on of his friends race near the Ohio border. His family was really cool and it was nice seeing LT out of the car being a spectator for once!
So what...
if it's this pretty little ladies birthday today and I cannot wait to hit up the country bar with her tonight to celebrate!
So what...
if this went down last week. I won't go into detail. Make what you will of it. Call Me Maybe was involved.
So what...
if after Little Tyke saw the videos he couldn't stop laughing and shaking his head. Then the next day this happened. (again, come to your own conclusions)
So what...
if I'm slowly but surely getting back into blogging. Finding a way to fit it into the schedule. I miss you all!