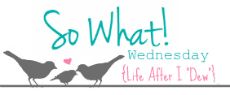 So what
if I am kicking off the holiday weekend by throwing a Tacky Easter Bash Saturday, who says Ugly Christmas Sweaters get to have all the fun?
So what
if I crack up every time I think of the outfit I'm going to wear Saturday. Thank god for Goodwill.
So what
if I bought an Easter basket to put jello shots in Saturday night.
So what
if I can't decide if this is a really great idea, or a really horrible idea.
So what
if... actually now that I think about it, I am probably going to hell for desecrating the holiday as such. Whoops.
So what
if I got hit on by every underage fella at Walmart last night because my cart looked like thi.
So what
if we have standards.
So what
if my dining room table hasn't looked like this since at least Christmas.
So what
if I fell off the watermarking bandwagon. What can I say, it requires effort I don't want to exert.
So what
if I made bread pudding for family dinner on Monday.... with donuts. And rum. It was amazing, in a sugar coma kind of way.
So what
if I got a kick out of this. "My Engagement Pictures", is this for real!? Sorry I'm not sorry.
So what
if I am super excited for May. May in Indy is so very fun.
So what
if I should not be blogging. I have so many things to do at work today. Back to the real world
Adios amigos!