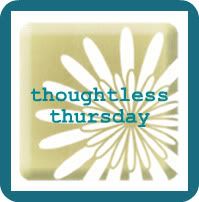 This week I'm dedicating Thoughtless Thursday to a thoughtless little 16 year old.
Last week, Chris had gone to the BMV after work to get a new license (due to the placement of the holograph, EVERYONE thinks his says his year of birth is 1932 instead of 1982!) and renew his plates.
Shortly after I got home from work, I got a text from him saying "my car just got hit in the bmv parking lot by a girl taking her driving test" accompanied with this picture
After a few "shut up seriously..."s (I mean c'mon what are the chances!?) I said what any concerned girlfriend would say.... "Well, I hope they didn't pass her!"
So as the story goes, Chris was just finished up and walking out to his car, he saw the girl park and she was awfully close to his car, so she began to back up to correct her parking job. She cut the wheel a LITTLE too tight, and Chris watched the Driver's Ed Instructor screaming "STOP! STOP!" however, little miss super sweet 16 apparently chose to ignore her advice and CRUNCH, poor Kit (yes, Chris' car got a name courtesy of moi) got a nice, fairly deep scratch across both doors on the driver's side.
But get this... the girl said NOTHING to Chris. Not a word. She didn't apologize, she hardly even acknowledged she did something wrong! I don't know about you, but if that was me I would have been bawling and apologizing profusely!
I guess the cop really ripped into her, not to mention the instructor let her have it. Poor girl, her insurance rates are going up and she doesn't even have a learner's permit in her possession anymore!