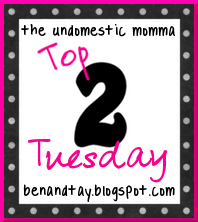 Here for another Tuesday with Taylor over at
The Undomestic Mama
.This week's topic is a fun one.... Favorite Items under $15
1. $10 Sangria pitchers on Wednesdays at Barcelona Tapas!
I love going to this Tapas place in downtown Indy on Wednesdays after work with my ladies to indulge on some sangria and laughs!
2. Scratch-off's and lottery tickets
I promise I don't have a gambling addiction, I just LOVE scratch-offs! Chrischris and I will sit in the gas station scratching them off and trading them in over & over again and then if we get a decent chunk of change from one we go blow it on milkshakes or something! I usually buy a Powerball ticket every week too, one of these days I'm going to be holding a gigantic check... you just wait!
Come play along with us, just visit the link above!
And, of course, don't forget to enter my giveaway for the adorable stationary set!