It's my favorite blog day of the week!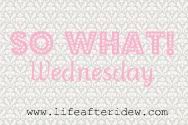 So What Wednesday
So what
if I had Raspberry Chocovine and Cheerios for dinner last night. I'm trying to use up my milk before vacation! And it was quite tasty, actually.
So what
if I prefer gas station coffee over the 'bucks. 3/4 French Vanilla Cappuccino, 1/4 coffee. Stir and go for $1.77
So what
if I would like to make The Band Perry die young just so I don't have to hear that song anymore. Eek, maybe a little harsh?
So what
if I was super proud of myself for the Pinterest Success I've acheived lately!
Crayon Art - CHECK
Tshirt Braided Headband - CHECK
So what
if I sent HJ a funny little card in the mail and it's taking everything in me not to ruin the surprise by continuously asking "did you get anything in the mail today??"
So what
if I started a pinboard titled "Daydream it" with wedding-ish stuff I like. ONE DAY people, ONE DAY I may just get married, and it never hurts to store those cute ideas somewhere, eh??
So what
if some dude from Jersey Shore was in town yesterday and everyone was all OHEMGEE over it and I could care less. Reality TV just isn't my thing...

don't throw rotten tomatoes puhlease
So what
if it makes me mean, but if a storm is rolling in (and believe me, I watched it roll in from my house - about 20 minutes away from the fairgrounds) and even commented on twitter about how dark and windy it was getting outside) you can bet your ass that I'm not going to continue kicking it at an outdoor concert, by huge metal pieces. Yes, it was sad and tragic that it happened but at some point you need to use common sense and trust your intuition people
So what
if I'm super excited for Colts season to start -- first home game is Friday!
(Hah look at that blue hair!)
So what
if I have probably 8 or 9 Colts jerseys. I've been going to the games for like 10 years! And havent really grown much HAH!
Still wanting more? Check out my SoWhat's from weeks past - I promise there's some good ones that'll keep you giggling!