It's my favorite blog day of the week!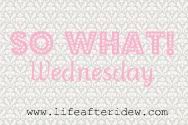 So What Wednesday
So what
if I took HJ to dinner & to see Transformers last night, and he repeatedly asked "so what do you want? I know there is a catch somewhere!!". Dang can't a girl just be nice!?


So what
if after only being 2 previews deep HJ began to realize why I was agreeing to go see all the 'man flicks' they were showing previews for… hello brad pitt, hola daniel craig, holla hugh jackman


So what
if we got back to my house to find Russell had chewed up a mix cd that Jenn had sent me, and added a few lovely teeth holes to my laptop bag which resulted in me becoming a crying mess. Frustration and I haven't been getting along lately


So what
if I made my twitter private… sometimes you don't want the entire world seeing every random thought that goes through your mind


So what
if I randomly apply for jobs even when I'm not "looking". They say you only regret the chances you don't take… who knows if some random fun job I stumble across may be where I'm supposed to go next!?


So what
if I really want a new swimsuit or two before Jamaica… even if I literally have atleast 20 already.


So what
if I love vacationing in late summer/early fall because all the summer clothes are on super sale by then!


So what
if I bought 4 big things of flowers a week ago and they are all already clinging to the last little bit of life because it's been so dang hot. And I may or may not forget to water them EVERY day TWICE a day.

So what
if had banned myself from Pinterest for like 3 days because it was seriously getting ridiculous the amount of work I WASN'T getting done
So what
if I am incapable of going up or down stairs normal. I always skip steps (take them 2 at a time), I run down stairs, and skip up them. Hey, it makes life fun... and apparently others around me get a kick out of it!
Still wanting more? Check out my SoWhat's from weeks past - I promise there's some good ones that'll keep you giggling!