It's my favorite blog day of the week!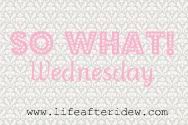 So What Wednesday
So what
if I'm really sad I can't be in Vegas helping my best friend ring in her 24th birthday

(hah we were just babies in that photo -- '07!)
So what
if the new boytoy has the funniest nickname, compliments of miss Jenn, he is now referred to by nearly all my friends & family as SirHJ or just HJ.
Hold me closer tiny dancer
So what
if Scott & I drove 2 hrs, to Cincinnati, yesterday after work to pick up a new toy for him.
So what
if I almost ended up in tears on the way home because I was driving his stick shift truck back to Indy and killed it like 5x in a row at a stop sign and everyone behind me was angry and honking. In my defense, it was only like my 4th time ever driving a manual. Aside from that I did just fine!
So what
if the box of Junior Mints I found hidden in my cabinet this morning as I was making coffee made up for my near-tear experience. He's a sneaky little one =)
So what
if I found a half-melted bag of M&M's in my purse yesterday that looked like this... and I ate them anyways, because I wanted chocolate THAT bad
So what
if some dude in a big truck spit out his window yesterday on my drive home from work & it went all over my car and I'm still ticked over it. Jerk. Who does that?! Nasty.
So what
if the giant purple sunglasses are becoming increasingly popular at my house... everyone loves wearing them!
(example: Scott's friend, Kenny, who was serenading us at this point)
Still wanting more? Check out my SoWhat's from weeks past - I promise there's some good ones that'll keep you giggling!