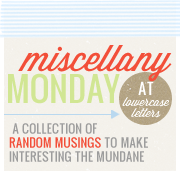 I've decided to play along with Carissa (and the other 3/4 of my Reader posts!) and participate in
Miscellany Monday
this week. I've got a whole slew of things to blab about....
1.
The weirdest thing happened this past week... we had a note in our mailbox from someone saying they "were very interested in buying our house." Are my parents ready to sell our house? If the price is right, heck yes! Once I move out they'll be two peas in a very big pod, and if someone is going out of their way to show interest we'll give it a shot! Needless to say we've been cleaning & organizing our butts off. Chris was amazing, he showed up bright & early Saturday morning to make a Goodwill run and powerwash the deck and front porch!
2.
You all have convinced me to
cut my hair
! I'm waiting until after we get back from vacation though -
adjusting to non-ponytail-accesible-short-hair whilst in the caribbean is not my idea of a good time!
(Perhaps something to this effect... minus the blue streaks I had - those were Superbowl decorations!)

3.
Speaking of caribbean... 4 more days of work! Woohoo!
4.
We watched Alice & Wonderland last night - the new one. One word. WEIRD. Honestly, I was bored... I could have turned it off after the first 30 minutes and I wouldn't have been mad.
5.
The
reusable cups I ordered Thursday
got here Friday - super impressed with the quick shipping! They are awesome, I called dibs on hot pink!
6.
Whilst on the cleaning frenzy this weekend I had a near meltdown caused by the disappearance of my passport. Yep, 1 week from leaving the country and it was not located where it should have been located. Thank god I found it mixed in with some papers on my desk, had I lost it, I would have been applying for my 4th passport... but that's a story for another day.
7.
The Indiana State Fair is coming to a close... I can't recall a year that I haven't gone to the fair at least one time. This year was no different... we had a great time with good people and delicious food!
8.
Have you ever seen the site
MthruF.com
? Hilariousness. It's my go-to site when I get bored at work lately. It's full of silly work pranks and things I'm sure you can relate to if you work a 9-5 everyday!
Well, I think that's enough miscellany for now! Have a lovely Monday!