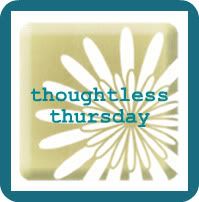 Has anyone seen little Mrs. Fulmer around bloggyland? I just
tried to go to her blog to see if she had put up the McLinky and blogger is telling me it's been deleted... help!
So yesterday about 2 in the afternoon the receptionist called me and asked me to come up to her office. I figured it was because our lil mailbox was full and she wanted me to get the junk out of it! (hehe oops, there's never anything in there except mine & my bosses' paycheck stubs!)
I jog up the stairs, around 18 corners and head towards the front of the building (yes, I really do work in a maze) and as soon as I round the corner into her office I see the cheeriest bouquet of flowers wrapped up in cellophane on the desk.
That little stinker
got me again
! I love 'em! What girl wouldn't enjoy getting flowers randomly delivered to her office?!
I joked with him last night that he only sent them in hopes of me putting it on the blog! How could I not?! He turned to me in the car on the way to dinner, with this sheepish grin on his face and said "you posted that text message from me on your blog and now all your invisible friends think I'm just the sweetest guy ever!". What a brat!