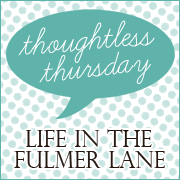 We went by Chris' storage unit last night to un-bury his couch and love seat (he sold them to someone I work with).
While he was doing heavy lifting, I supervised... and spotted something fun. One of our helmets from our Double Dare costume last year!
Then my cell phone rang and I got sidetracked and forgot I even had it on. Chris, however, apparently found it to be the perfect photo opportunity.
(Yes, I did block out my license plate... I'm not a fan of stalkers and what not)
Join in on the Thoughtless fun over at Katie's blog!