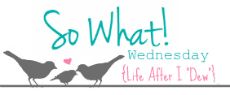 So what
if I went to change out of yoga pants to put leggings on the other day, I untied and took off my shoes, took my pants off, proceeded to put my shoes back on, and tied them. Then stood there in my underwear and tennis shoes cracking up at myself. Ay yi yi (Then, because I didn't want to take my shoes back off I struggled to pull my pants on OVER them)
So what
I spent my Valentine's Day with a group of single friends, consuming mass amounts of bacon and cocktails. Seriously - bacon wrapped tater tots, jalapeno poppers, straight bacon, it was amazing. I think I may need to stay single forever just so that can be my yearly VDay ritual
So what
if I am wearing the geek glasses today. They seemed like the perfect match for my bacon hangover mood this morning
So what
if instead of changing the battery in my smoke detector this morning, I laid in bed silently cussing out its every chirp from the hours of 6am to 7am. Why it decided it needed a new battery in the wee hours of the morning is beyond me.
So what
if I am absolutely ticked that the ticket we all thought
mysteriously disappeared
has made itself present again. In the form of a threat letter saying my license will be suspended in two weeks. Neat.
So what
if I am about to rub this in your face -- I'll be on the beach in the Caribbean in 3 and a half weeks. (Sorry, sorry, had to)
So what
if my blender was literally smoking this morning. I guess a $15 wally world cheapie can only handle so many frozen bananas. Naturally, I continued to use it. How else was I supposed to completely blend my green monster, by hand?!
So what
if played hooky from work on Monday to hang out with my niece. She is doing really well, you wouldn't even have any clue she was battling cancer - which is simply amazing in my mind. We put on a pretty gnarly drum concert on her Muppets drum set.
So what
if I got asked out by a 21 year old. I know it's only a couple years younger... but I'm struggling with it HA! Probably doesn't help that I've taken to calling him "little tyke"
So what
if semi-bigdeal changes are happening in my world but I can't discuss just yet. Soon though, promise!