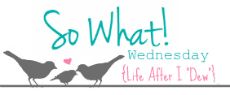 So what
I am currently photoshopping an image of plastic communion cups full of wine to look like jello shots. My options were limited. I'm going to hell.
So what
I went into total geek mode this morning & located and removed a virus from my computer. Regedit ftw! ( I grew up with an engineer for a brother who was always rebuilding computers, I picked up a thing or two along the way!)
So what
I think everyone who regularly bashes Indy, regardless of the fact that they live here… shouldn't be allowed to enjoy the Super Bowl festivities ;)
So what
it is wishful thinking to hope that MAYBE my niece won't have any side effects from her chemo. She just completed week three and so far so good.
So what
I held off on baking Girlfriend Cookies last night, since vacation is a month and a half away… but then proceeded to eat (no lie) half the box of Tagalongs. I don't care how sweet & innocent they seem… Girl Scouts are the devil
So what
I painted my nails all cute & valentines'y last night, and proceeded to screw them up not even 10 minutes later. Happens every time.
So what
if I regularly get emails & tweets asking about vacation advice/tips/suggestions and want to somehow blog about all my experience but am struggling to figure out the best way. I don't want to go all TripAdvisor'ish, yah know!?
So what
if I miss my best friend really, really bad. She started her new job and I have been so busy with Super Bowl that we have barely found time to chat. Boo!
So what
if this week, jeans week at the House of Booze, has made waking up in the mornings THAT much easier. What is it about being able to wear jeans that puts a smile on my face!?