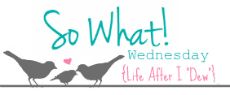 So what
if it's this little ladies 2nd birthday today.
I may be biased, but I think my niece is the best. She is such a strong, amazing little ball of sass. With her chemo and weakened immune system we are just having a little get together for immediate family, but I hope she feels the love all the same!
So what
if I am currently image-searching for a lei and a cowboy hat to put on a beaver. God, I love my job. Redneck luau here we come.
So what
if
this lady
bailed on our 3way dinner date Saturday night. (Lame)
Aly
& I had fun withoutchooo.
So what
if I celebrated Fat Tuesday with Margaritas. The Mexicans were on to something, I tell yah. I choose them over Catholics, and definitely over Irish. I promise you I will have tequila in my system on St Pattys Day, lovingly referred to as Worst Holiday Ever.
So what
if I painted my nails to match the spice jar. It caught my eye on my kitchen shelf.
So what
if I think a burger topped in guacamole is the best idea EVER.
So what
if I am absolutely loving having the office to myself. I need to do some rearranging though, no?
So what
if I listen to Robin Thicke's Pretty Little Heart on repeat. For extended periods of time. Can he be mine? I wouldn't hate him serenading me all the time.
So what
if this is what I look like every day when I get home from work. My dress pants come off immediately when I walk in the door. The sad part is, I almost forgot & left the house looking like this
So what
if I've yet to put away any of the laundry I did over the weekend. My bedroom is a wreck.
So what
if I think I am getting sick again, and (compliments of WebMD) I've narrowed it down to either Measles, HIV or diphtheria.
Ok, I may have gotten that last one from Oregon Trail.