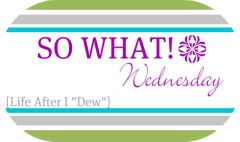 So what
if I have maternity leggings on right now. I didn't realize when I was buying them. They fit fine everywhere except the gut... I could stuff a pillow in that bad boy! I just fold them down hah
So what
if I came home Friday after work to a surprise delivery. My 2nd favorite west-coaster, Cody, sent a box of chocolate-covered strawberries. They shifted a bit in transit, but are pretty darn good!
So what
if I took on a little project roughly 4 hours before everyone was slated to show up for Christmas Eve celebrations.
Just a minor thing ;) My dad ended up calling right after this picture & wanted me to come pick him up from the tire store and I ended up getting busted. Which I guess is good because he helped me finish in half the time!
So what
if the bathroom chalkboard got some serious action on Christmas eve. The headline being "MIKE = COUSIN EDDIE"
So what
if, even though I enjoyed having a house full of family, I doubt I will offer to host Christmas again. There was wine spilled on stuff, broken chalk all over my bathroom and a very sick dog because everyone kept feeding him people food. It was more of a mess than when I have all my friends over! =/
So what
if I'm absolutely in love with the new baby that was adopted into the family on Saturday! Miss Bella. One of my mom's clients was giving her away because she started a new job, and my mom offered to take her. She's such a doll
So what
if Santa knows about my adoration of MattyMc and brought me these for Christmas. Enabler! I think my collection is nearly complete
So what
if am LOVING work this week because I am alone in my office. Supervisor takes vacation this week every year and it's so nice and peaceful.
So what
if am currently trying to figure out how many boxes of bandaids and icepacks I need to buy to burn through the $100+ that's still left in my FSA account. Boo on 'use it or lose it'!