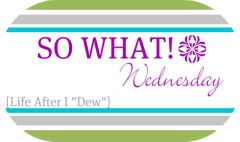 So what if I just threatened my supervisor. He has been hacking up a lung for three days and I told him if I become sick I am kicking him in the shins. Dude, take a sick day.
So what
if Saturday I got out the trim paint to touch up this spot on my bathroom door casing that has been driving me nuts... which turned into re-painting all my stair risers, touching
up a bunch of trim, and painting my bathroom vanity. Got a tad carried away.
So what
if I have THE dumbest line from a rap song stuck in my head. "was that Chanel 5... Very sexy fragrance"... it's from AceHood's Body-to-Body. Go listen.
So what
if this picture right here has led me to bust out in random giggles atleast 23 times since I first saw it yesterday.
So what
if this conversation, with a friend from college, is probably pretty true.
So what
if I insisted that I get my picture taken with this jumbo PBR when we were tailgating on Sunday. Hey, whats up, I'm Chelsea the hipster.
So what
if we didn't just have hot dogs at tailgating.... we had snoop doggie dogs! Also involved were brightly colored solo cups, and sharpies
So what
if our bud, an ex colts player, told some little kid he was Joseph Addai when the kid asked him if he used to play for Indy. The kid totally believed him too HA
!
So what
if we tebow'd in the stands after the Colts finally won a game. Hey, it was necessary!
So what
if I snapped a picture of this chicks outfit at the mall. Really? REALLY? Someone send her to Pinterest, homegirl needs to learn how to dress. Paisley skirt + cowboy boots + polo shirt. In December. In Indiana.
So what
if we have another Colts game tomorrow night, which means I will be dragging ass at work on Friday. But it's the last game of the season... I can't NOT make jello shots for the last game!