It's my favorite blog day of the week!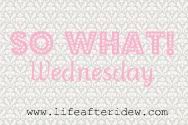 So What Wednesday
So what
if I am extra jingly today! It's fun!
So what
if I am just now getting around to doing the laundry from my Vegas trip, atleast that means I'm already unpacked from Negril trip (which is moving at a lightening fast speed for me!)
So what
if I walk around all day saying "Shadrick tell Roberto to stop dancing, he an embarrassment to my country" (in my best Italiano accent of course) because it still cracks me up. Those silly Roman boys.
So what
if I caught some ugly glares yesterday as I turned onto my street with Backseat by NewBoyz blaring and windows down. Lighten up old folks, it's all in good fun!
So what
if I accidentally had the post office hold my mail until May 14th instead of May 9th... clearly I subconsciously wanted a much longer vacation than I really got!
So what
if I am tired of having broke friends who can't vacation with me!! I'm going to start recruiting individuals for the cause... anyone want to sign up?? Anyone? BFF with Benefits.
So what
if I drove to the grocery at 930 last night because I REALLY wanted a bowl of Reese's Puffs, and was out of milk
So what
if I am on my 3rd Cherry Dark Chocolate Kashi bar of the morning - these are really addicting. I go through a box in like 2 days. I might have a problem.
And lastly...
So what
if I am in a super good mood today?! The sun is shining, it's warm out and I'm just lovin life right now!!
Still wanting more? Check out my SoWhat's from weeks past - I promise there's some good ones that'll keep you giggling!