It's my favorite blog day of the week!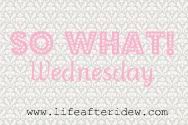 So What Wednesday
Link up with Life After I "Dew" if you wanna dish too!
So what
if everytime someone calls me Miss Chelsea in real life I wonder if they have read my blog... there's just some people I'd feel odd if I knew they read (ie some coworkers)
So what
if I always get confused as to whether it's "play it by year" or "play it by ear". Anybody??
So what
if I had a dance party with Sean Paul in my shower this morning. Not literally... just compliments of iPhone on the bathroom sink
So what
if I bake cookies atleast once a week. For no reason. I just like to.
Friends, family & coworkers don't seem to be complaining!
So what
if I am loving May in Indy because I have a lot of friends in the race industry and I get to go out and play with them!
[heh, blacked out my house # so ya'll cant stalk!]
So what
if I wanted potted plants on my front stoop... so I bought pots and I bought already planted hanging baskets... and then I put hanging baskets in them and then just cut the 'hanging' part off. I thought it was super clever! Lazy girls guide to gardening
So what
if I really really need to get my hands on a bottle of Pinnacle Cake after tasting it the other day. It seriously smells JUST like yellow cake... and tastes like it too!
So what
if my niece rocks her shades in the house... she's just chillin, having a cold one!
So what
if I have bathtub crayons in my shower. Whaaat?! I know you are jealous! (and yes, they are separated by warm/cool colors... it's my artsyfartsy brain)