It's my favorite blog day of the week!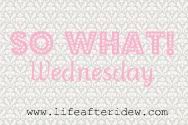 So What Wednesday
Link up with Life After I "Dew" if you wanna dish too!
So what
if I start a song over in my car so that when I pull up somewhere that specific song is playing... is that weird? Please tell me someone else does that too
So what
if I put the empty bottle of French vanilla coffeemate back in the fridge this morning because I was running late and didn't have time to rinse it out and put it in the recycle
So what
if I sorta felt important this morning when I got "hi"s from like 8 different people between the parking lot and my office.
So what
if I'm thinking about catching a cold Friday morning and calling in sick so I can go to Carb Day (for those not familiar, it's the last day the Indy cars practice before the 500 on Sunday… in real man's terms, it's the biggest party day of the year at the track). I have a friend dangling pit passes, garage passes and suite passes in front of my face! How can I say no to that?!
So what
if I plopped down on the couch with a carton of ice cream and a spoon the other night, only to scramble to hide it because my macbook started ringing as soon as I opened it up (Skype request)
So what
if my first time video-skype'ing creeped me out slightly. Sure it was fun chatting with Shadrick but I have this weird fear that the video thing stays on even after I turn off my computer

So what if my Shadrick's birthday is Friday and his birthday bundle of goodies probably isn't going to even get shipped out until tomorrow. It MAY be a little late. What a bad wifey I am!!



So what
if you're gonna have to wait even longer to hear the next installment of the Jamaican Husband chronicles! (Catch up on part 1 here if you haven't already!)
So what
if I was thinking last night, whilst shopping for a dress for an event Thursday night, that I need to make friends with more stylish girls my size. Is that vain? I'm just sayin, it would be nice to have someone who I could swap clothes with (esp party dresses!)
So what
if I skipped out on doing laundry last night to grab dinner with my friend Wheeler. I feel like I only get to see him at race time! (He works for a race team)
So what
if we really wanted cookie dough, and since his parents are bff with the owner of the place we were at… we got a plate of cookie dough brought to us!

(not as good as homemade but hit the spot!)
So what if any domestic duties are going to fall to the wayside the remainder of the week/weekend. Dinner with a friend tonight -- charity event tomorrow night with IRL drivers bartending (should be interesting!) -- Carb Day 24hr flu on Friday, party on Main St after that – FANtasy 500 Party Saturday night – Race Day Sunday ----- good lord I need a relaxing pool day come Monday!
So what
if the lunch I packed today consists of a bag of Lime&Salt popcorn, 2 Kashi Chocolate Cherry bars and Easy Mac. It was all that sounded good!
So what
if I find it kindaaa weird when I go to someone's house for a get together, and the next day 17 pictures of the food pop up with EVERYONE tagged in them. Yes – I go through and promptly untag myself.
So what
if I'm seriously trying to plan another trip to Jamaica in August!
I told you - I have a problem.
Still wanting more? Check out my SoWhat's from weeks past - I promise there's some good ones that'll keep you giggling!