It's my favorite blog day of the week!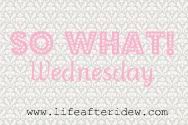 So What Wednesday
So what
if my jeans take up an entire shelf in my closet.

(and no, this isn't all of them... it was laundry day)

In my defense, I've worn the same size since high school... so a few of those pairs have been around for a while!
So what
if I missed the neighborhood parade last weekend.
Wait...what?!
Really what are these people doing... please tell me that's not all one family.
So what
if I have a plethora of dandelions in my yard. Stop judging.
Seriously
. Quit.
So what
if I was so proud after my first time mowing my own grass that I took photos.
So what
if I finally just got my stair railing hung back up after 5 months of risky stair climbing sans handle.
So what
if I can't say no to this face. Awww
isamistarussell
So what
if I'm still cracking up at this dude's wedgefactor.
REALLY!?
So what
if I am addicted to this stuff lately. I wish it came in big bags! (Although it's probably a good thing it doesn't)
So what
if I was still gluegunning my wreath when people started arriving for Easter on Sunday. Finally done! I kinda love it!
So what
if my fridge is angry. (no clue who did this but thank you - I cracked up when I noticed)
That's all I got =) Hope you're staying dry on this lovely spring Wednesday!
Still wanting more? Check out my SoWhat's from weeks past - I promise there's some good ones that'll keep you giggling!