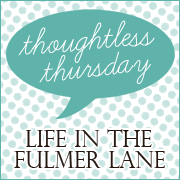 Thoughtless Thursday
this week calls for a numbered list!
1.
I've won two giveaways in the past week... I think
Brittany
sent some of her good luck my way (after she won like 83 giveaways last month!)
First I won this fun
bunch of goodness
from
Michelle
(seriously, how cute is that notebook)
and then this morning as I'm making my way down my Reader list, I notice that I also won the
Flirty Apron giveaway
from
Taylor
! Pretty sure I'm gonna go with either the cupcake one or the black & white one...
2.
Tonight we're going to indulge in some $0.50 boneless wings from good 'ol BDubs with our newlywed friends, Kenny & Amanda. They got married in Mexico (we weren't able to go because it was the same week we were down in Jamaica! Sad face)
Check out their gorgeous wedding pictures (that I snagged off of Manda's facebook, hah!)
3.
My birthday is coming up in about a month... and I'm excited about the possibility of going to visit my long lost lovely, Jenn, in her new Vegas home!
(If you don't already follow her blog, JAGged Little Life, you probably should! You can see a ridiculous photo of me in her most recent post... I'm getting ready to go snowboard, I swear I don't typically dress like that!)

4.
ChrisChris and my brother are playing in some intermural football league this Saturday. Lord help them, I have a feeling they're gonna get hurt hah! (But I secretly think it's really cute they hang out, and I love that my big bubby gets along with Chris so well!)
5.
I'm going to see
Mary Poppins, The Musical
, with my mom this Sunday. I haven't been to a musical in forever, and even though Mary Poppins wasn't my favorite Disney movie (Cinderella was) I'm still really excited about it!
6.
In additional to the bargain I got on my dress for vacation, I also got a steal on some Steve Madden over the knee boots... details to come later! I can't wait to wear them... I never thought I would say this, but I wish this 90degree weather would migrate south for the year!
7.
Join our
First Annual Snuggle Up Scarf Swap
!
I think that's all I've got for today, ta ta!